Posted on July 30th, 2012
Overseer 5.0 now uses a newer version of the .NET Framework, 3.5. Overseer 4.x used .NET Framework 2.x for backwards-compatibility with Windows 2000. However, Windows 2008R2 introduced some new event log types that used a new API that was only available in .NET 3.5. Considering this limitation, I was forced to upgrade to .NET 3.5 to satisfy the demand for this new feature. Sadly, this makes Overseer 5.x incompatible with Windows 2000. Overseer can still monitor Windows 2000 computers, but Overseer itself cannot run on Windows 2000. Windows 2000 is far past Microsoft's extended support life cycles, so hopefully this won't inconvenience too many– particularly since Overseer can still monitor Windows 2000 computers. For those that need Windows 2000 compatibility, we will still sell Overseer 4.x as well.
---
Posted on July 28th, 2012
Overseer 5.0 has a new test dialog. This test dialog is a little more visually appealing, but also makes it easier to copy any error messages out for pasting into other programs, such as Emails. In the future, this dialog will hopefully be used to display more detailed error messages and links to blog posts that may be helpful in diagnosing the issue.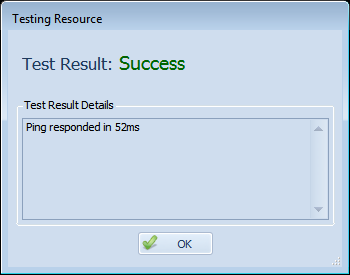 ---
Posted on July 26th, 2012
Most resource types in Overseer log some sort of data to the 'data' field, accessible by looking at the resource history. This can be useful for temperatures, response times, etc. With Overseer 5.0, the Process monitor was changed to properly log the memory usage or process counts to the data field with each check. This makes monitoring windows processes with Overseer a little more useful, even if you don't have any failures.
---
Posted on July 25th, 2012
Overseer has always been a simple-to-use network monitoring tool, and as such, I've kept the interface rather simple. I personally didn't see users accessing items in the drop-down menus often enough to justify a toolbar. However, some users definitely do access functions up there, and generally it's just a lot faster when a user actually does.
So, with Overseer 5.0, I've added a toolbar:

This toolbar offers a few icons:
New Resource – this option lets you add a new resource to Overseer. Clicking it will show a drop-down of all the different resource types.
Resource Groups – clicking this option will allow you to edit/add/delete your resource groups
Notifications – clicking this option will allow you to edit/add/delete your notifications
Notification Groups – clicking this icon will allow you to edit/add/delete your notification groups
Passwords – Clicking this icon on the toolbar will let you add/edit/delete your passwords/credentials
Schedules – If you select this icon, you'll be able to add/edit/delete your schedules.
Options – This option presents an easy way to access the Tools->Options section.
Service Running – This displays the current status of the Overseer service. Clicking it when it says 'Service Running' will stop the service. Clicking it when it says 'Service Not Running' will start the service
Help – This will launch the help file.
---
Posted on July 23rd, 2012
Overseer Network Monitor depends on a Windows service to run. This Overseer windows service is what monitors your resources, sends notifications, etc. It's critical that this service is running, so the start type is set to automatic. Up until now, however, the Overseer management application hasn't displayed the current status of the service. Sure, when starting the management application it will prompt to start it if it's not running, but if the service stops running otherwise, it's of no help.
In Overseer 5.x, I added a user interface element that I've been meaning to for a while– a service status indicator. This service indicator is in the upper right corner on the toolbar, and shows the current status.
This is what it looks like when the service is running:
This is what it looks like when the service is not running:

Additionally, if you click the button, it will start/stop the service, based on which state you're in. If the service is running, it will stop the service(not generally something you want to do, FYI). If it is not running and you click it, it will start the service.
This should give a nice visual clue as to what's going on with your network monitoring software.
---
Posted on July 20th, 2012
Previous version of Overseer would occasionally take a little while to start, for one reason or another. This was sometimes a bit confusing to users. In Overseer 5.x, I added a simple splash screen:

This splash screen isn't the prettiest out there, but it is functional, and provides information regarding what is going on when starting the Overseer network monitoring software.
---
Posted on July 18th, 2012
When Overseer Network Monitor was first released, it was priced with a core and then each monitoring type was an add-on. This worked for some, but we soon realized it wasn't for everyone. Within a year or so, we switched to an "all inclusive" licensing model, and simply priced based on number of resources. This worked for far more people– only 1 or 2 customers with thousands of devices that they pinged expressed concerns over the model.  With Overseer 3.0, we also offered both a 'free' and a 'lite' version of the software. The free version allowed monitoring of 2 resources, and the lite version allowed monitoring of 5 resources.  With Overseer 4.0, we stopped the free and lite versions, as lite rarely sold, and we felt we were losing sales to the 'free' version.
Well, Overseer 5.0 is here. I've heard some complaints since 4.x about not having the free version, and upon reflection, I've decided that it's simply the right thing to do– providing free network monitoring software for tiny uses. If you only have 2 resources, Overseer Network Monitor 5.0 is now free again! We do ask, however, that if you request a free license that you help promote Overseer– to friends, colleagues, employers, etc. The free version only exists because people pay for the full version. Links to our website with the appropriate keywords(i.e. 'network monitoring software') would be very much appreciated as well. If you're running a business that relies on Overseer, we strongly suggest that you support Overseer development by buying a license. If you wish to support development but don't wish to buy a full license, you can send a donation for any amount of $1+(due to merchant fees) to 'dkalweit@sensiblesoftware.com' on Paypal.
Please follow this link to request your free license for Overseer w/2 resources: Free Network Monitoring Software
---
Posted on July 16th, 2012
Previous versions of Overseer all stored their data in a 'Data' subdirectory of the installation directory– typically C:\Program Files\Overseer\Data\. Microsoft frowns upon putting data in an application's binary directory(or subdirectory), however– so in Overseer 5.x, the database has moved to the 'proper' place, according to Microsoft. Overseer's data is accessed by 'all users', so on Windows XP and 2003, this is in C:\Documents and Settings\All Users\Application Data\Overseer\. On Windows Vista+, this has moved to the far simpler C:\ProgramData\Overseer\.
These directories aren't always easy to navigate to, so I've added a simple interface in Tools>Options->General Settings->Data:
As you can see, this indicates the database type, database path, and provides a few buttons to manage this. The 'Move' button lets you change the directory your data is stored(this moves your database as well)– this is useful if you want to put the Overseer database on a network drive, for example. The "Change" button lets you point Overseer to a different location, where you already have an Overseer 5.x database. And lastly, "Open Folder" opens the data folder in Windows Explorer.
---
Posted on July 14th, 2012
Overseer's auto-discovery wizard is a very quick way to get up and running monitoring your network servers in no time. Previously to 5.0, the only way to use it, was to discover hosts from active directory, however. With Overseer 5.0, I've added the ability to enter a list of servers/host manually. This can be just one, or many. This is a great way to add monitoring for just one new server.
---
Posted on July 13th, 2012
I've just released a new version of Overseer Network Monitor, 5.0.73. This is only a tiny bug fix release that fixes a bug involving upgrading from 4.x to 5.0 with HTTP resources that have URLs defined without a starting http:// or https://.  Generally URLs start with http:// or https:// to define which they are, but Overseer supports an implied http:// when it's not there, and when implementing another feature, I didn't realize this was possible.
---